HALEY.TXT


The following is a transcript of portions of Art Bell's Dreamland radio 
program. Art's guest was Leah Haley, an abductee who claims she was aboard an 
alien spacecraft when it was apparently shot down by the Air Force near Gulf 
Breeze, Florida by an electromagnetic pulse (EMP) weapon. The program 
originally aired in the fall of 1994.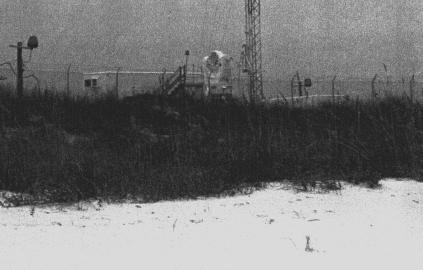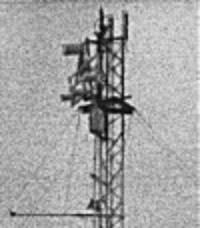 AB: Art Bell

LH: Leah Haley

CALLER: An unidentified male who called in to speak to Ms. Haley

-----------------------------------------------------------------------------

AB:

... but there's one other aspect I really have got to get covered first. And 
that is, it says "involved in a UFO crash." Now, are they referring to the 
object landing in the woods? It doesn't sound that way...

LH:

No... No... No, I remembered some of this consciously and some under the aid 
of hypnosis. I was in one of those alien craft, the chalky-colored, off-white 
creatures, looking out a porthole after they had finished their medical 
experiments. And there was water below, it looked like the ocean. I remembered 
seeing a military vessel below us, and as I was looking out the porthole I 
felt a jolt, and fell back and hit my head on something. 

When I came to, I crawled out an opening in the craft onto the sand, as though 
I was on a beach. The craft was tilted sideways on the beach, and there was a 
lot of military activity going on. I heard helicopters and airplanes flying 
overhead. I saw a man wearing a gas mask with one of those creatures slung 
across his shoulders, the creature was still alive at that point. 

I was taken out to a ship via a lifeboat. And I got the impression that a 
helicopter was about to land and take that alien that I saw away. When I got 
out to the military ship on the ocean, climbed up on the deck, there was one 
creature sprawled out on the deck of the ship and he was still alive. Now, 
there are some creatures missing, I don't know what happened to the rest of
them. There were four creatures aboard the spacecraft with me before it 
crashed. And then I saw one on the sand, and one on the deck of the ship.
However, those two entities actually could have been the same one. It's 
possible that the helicopter took the entity off the beach, onto the ship.
And perhaps the helicopter got there before the lifeboat I was in arrived, so 
that could have been the same creature. There are at least two creatures 
missing, perhaps three.

AB:

Were you able at all to identify where you were?

LH:

Not at that point in time. I knew what the area looked like. It was a deserted 
area. There was a strip of beach that had white sand. The water, at that point 
in time, it was like right at first light. You know, right at dawn. The water 
was green and calm. I remembered the sparseness of the sea oats, I remember the 
shape of the sand dunes. There aren't many places in the United States that 
have sand that white. I didn't see any buildings in sight, it was a deserted 
area.

AB:

How about foliage, trees? Was it tropical, sub-tropical?

LH:

No, no, it wasn't. It looked like the area around Gulf Breeze, Florida. And 
I've since - we don't have enough time to go into everything - but I've since 
had some clues that the crash did occur in the Gulf - you know, near the Gulf 
Breeze area. And I have since gone down there investigating, and the area did 
look consistent with what I had remembered about the crash site.

There's an air force base down there, Eglin Air Force Base.

AB:

That's right...

LH:

Just east of Gulf Breeze. And I and Donald Ware and Bob Reed, who are retired 
military people, we walked on that air force base, on the southern end of it, 
13 miles from Navar Beach to Ft. Walton Beach. And that area did look 
consistent with the crash site. As we walked on that stretch of beach, we saw 
a strange piece of equipment that I have taken a photograph of, and I do have 
that photograph. And we since found out that that device is an electromagnetic
pulse beam weapon.

AB:

Uh... Leah, is there any chance that I could get a copy of that photograph?

LH:

Yes, yes, I'll be glad to take your address and I'll mail you a copy.

AB:

I would heartedly appreciate it, and I'll provide that to you when we get off 
the air, OK?

LH:

Great.

AB:

Alright, so you've identified that piece of equipment then?

LH:

Yes, and there were some articles in Aviation Week and Space Technology that 
confirmed that there is an electromagnetic pulse beam weapon at Eglin Air 
Force Base, and that those devices are capable of downing aircraft without 
causing loss of life.

So there are some people who have kept up with my case, and are currently 
investigating my case, who believe that the craft did not just fall down by 
itself, that it may have been shot down by our Air Force.


(later, a caller asks Ms. Haley)


CALLER:

How did you identify the pulse beam (weapon) as being a pulse beam, that type 
of a weapon? I mean that's probably something you wouldn't see a picture of.

AB:

That thing you found on the beach...

LH:

Oh yeah, OK, when Don Ware and Bob Reed and I walked on the beach that day I 
took a photograph of this piece of equipment, and at that point in time I 
didn't know what it was. In the meantime, we showed photographs of that device 
to people, and Donald Ware was out lecturing in California, in San Diego. And 
a person who heard his lecture came up to him afterwards and said that he was 
the engineer who had drawn the specifications for that device. And that it was 
an electromagnetic pulse device.

CALLER:

... Yeah, I was just curious because that's not something you'd see in any 
book anywhere.

LH:

Oh no, it wasn't in any book. I took a picture of it and it was on Eglin Air 
Force Base, and I must tell you that we were not supposed to have been on that 
base either. When I went back to see if I could get a closer picture of it - 
my husband and I went a few months ago - Marc Davenport and I went. And we got 
kicked off that base. We were ushered off the base before we could get close 
enough to the weapon to take a picture.

---EOF