THE
DISGUSTOSCOPE
Beautiful radial symmetry and pristine mathematics,
perverted into a revolting, horrible,
yet highly amusing little optical toy.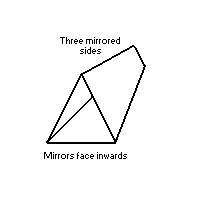 (down to links)


In 1988 I was playing with some 12" squares of mirror while looking for interesting decorative effects to use in a museum exhibit on electronics. I found that a trio of mirrors placed together on edge upon a tabletop would cause a "kalidoscope" effect. Even better, the view inside this 3-sided mirror-chamber revealed infinite vistas of three-dimensional polished wood, stretching off into the distant horizon. And if I tilted the mirrors slightly outwards, the flat tabletop became a sphere. Cool!


This was different than a regular kaleidoscope because the effect was 3D. In a normal kaleidoscope we look at colorful patterns inside a triangular mirror-tube, but we use just one eye. If the end of the kaleidoscope tube was enlarged so that both eyes could look into the end, then the scene would become 3-dimensional. The 3D scene within the mirrors is eerie, since it stretches off into the distance in all directions. Reminds me of childhood, and looking into the tilted world within those mirrors at the shoestore.


I used this idea and built the kaleidoscope below. By placing it against any textured surface, it would convert the surface into a spherical geodesic dome, where little triangular facets are all made from the original textured surface. Quite beautiful.


Unfortunately the esthetic history of this device immediately was diverted from "wow!", and became "feh!"


I placed the device against the table and made a beautiful wooden sphere. I stuck it on paper and made a "Japanese lantern." Shadows on the paper created animated, symmetric geometrical patterns. I moved it in and out, and the "lantern" would change size. I stuck it against my arm and... YEESH! A FLESHY BALL OF SKIN, COVERED WITH SWEATY HAIR!


I moved my arm up and down. The ball of flesh throbbed. I put the palm of my hand on the end of the mirror device, and made a nice clean smooth sphere of skin. I cupped my hand to fold the skin, and this produced an obscenely pulsing wrinkled flesh-ball. I shoved some fingers into the end, and saw a spiny sphere of waving fleshy pseudopods. I placed it against the side of my fist, clenched and unclenched it, and created throbbing organic orifices. I grabbed coworkers, placed my mouth against the end, made biting and tongue movements, and said "Look into this thing." They recoiled in revulsion and/or hilarity.


Thus was born THE DISGUSTOSCOPE.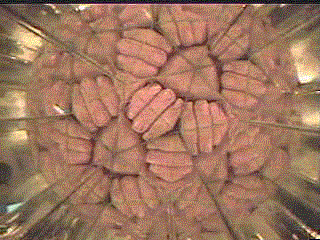 Construction: